An investigation has been launched into allegations of police abuse with disturbing testimonies from victims
The first evidence of a police brutal investigation launched in Nigeria describes how officers of the disbanded SARS armed forces tortured him and removed his teeth.
A victim who goes by the name Okoye Agu was arrested after his boss accused him of stealing at work.
The investigation into the police crackdown in Lagos State has begun following protests calling for the dissolution of the SARS force.
The commission of inquiry will look into allegations that the military fired at protesters last week where human rights groups said 12 people have been killed.
While testifying, Mr Agu said in 2014 he was beaten and presented in public as a criminal, his head was knocked down with two teeth out, and his car was sold with his cell phone without his permission.
Police refused to pay him despite a court order to pay for damages, he told the inquiry committee headed by a former judge.
He said his family did not know where he was and when they went to the police station after 47 days of looking for him, his wife and mother were beaten in front of him.
Mr Agu's testimony are consistent with other allegations against SARS officers, who are sometimes accused of harassment and even murder.
The other three appeals are scheduled to be heard on Tuesday because some witnesses did not attend the hearing.
Allegations of hostility between SARS operatives and Nigerians have sparked protests across the country, a move that has forced President Muhammadu Buhari to disband the force.
The launch of a special investigation into police brutality has been a major demand of protesters.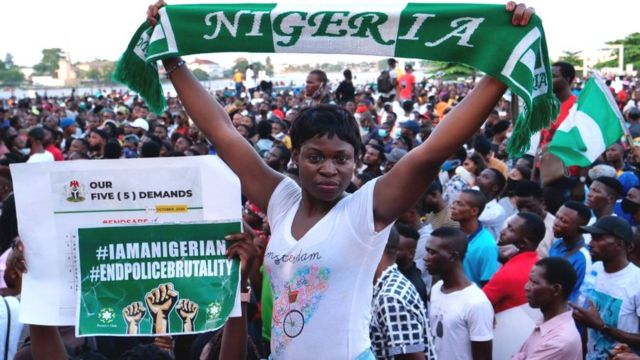 The federal government has asked all 36 states to set up commissions of inquiry, and Lagos was the first to hear complaints from those who had lodged complaints against police abuses.
The 11-member commission of inquiry, comprising two members of the protesters, will continue to hear complaints for six months.
Lagos Governor Babajide Sanwo-Olu announced that the investigation was also related to the October 20 incident in Lekki where some protesters and groups such as Amnesty International said the military had opened fire at protesters.
The Nigerian military has denied allegations that its officers opened fire on protesters
With the investigation being launched, people will be watching to see how the government will implement the commission's recommendations once it completes its investigation, as authorities in Nigeria have long ignored the findings of a commission set up to investigate.
For example, the recommendations made by the Commission of Inquiry into the killing of Zakzaky Shiites members by the military have not yet been implemented by the authorities.